The exact circumstances of the migration from Suffolk are forever a mystery. Nothing is certain, because there was never much record. Edith noted just that her grandparents 'came to the industrial towns because of work. They came from Suffolk, around Stowmarket and Bury St. Edmunds.' How well-acquainted they had been before they moved, and if already engaged; whether Emma had followed other friends or neighbours from Ashfield Magna to the Spen Valley, whether the Matthews family had travelled north with James – none of this is known. But they must all have arrived in Yorkshire before May 1875, when Robert witnessed his son's marriage to Emma at Birstall church. And James, we would assume, was there at least some months earlier, as his bride was already pregnant. Edith may not have been privy to all this detail.
Kate's birth in September 1875 was registered by Emma. She gave James's occupation as teamer, and their address as Heckmondwike High Street. By the time that Kate was five they lived in Hollinbank Lane at White Lee, on the ridge marking the Spen Valley-Batley boundary. They may have taken over the same house in which the rest of the Matthews family first settled on arriving in the district. Later, the three of them – Kate remained an only child – went back to Heckmondwike, to a street off the High Street. Soon after turning 12, Kate was registered for half-time employment, alternating her days between school and factory. Once 13, she could work full-time. Children started in textile mills as doffers, which meant servicing the spinning frames, 'doffing' yarn-filled bobbins and replacing them with empties. By the age of 15 Kate had progressed to minding a worsted-spinning frame in a carpet factory.
Her grandparents Robert and Ann Matthews had a large family, of 12, it was said. Some must have died young, others left home, perhaps to marry, before their move out of Suffolk. In 1881 six children remained at home, and home was then in Batley, a little way beyond White Lee. Four unmarried daughters worked in factories, as some had done in Stowmarket, but here as rag-pickers and cotton weavers. An 11 year-old son, Bob, was already in part-time work. The youngest child, George, was born in Suffolk in 1873 when Ann Matthews was 50. Although the census records him as another son, more likely he was a grandson, child of one of the unmarried daughters. Edgar understood from his mother Kate that Bob was the youngest of Robert's own family. Kate recalled Robert as 'a teamer, tall and thin, ill during his last years' and her grandmother Ann Matthews as 'less than me'. Smaller, she meant, and Kate herself was tiny.
James Matthews, born 6 June 1847 at Ashfield Magna, a carter, a teamer or teamster, worked for more than 20 years at John Collier's soap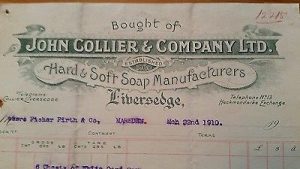 works in Valley Road, Millbridge. So by 1891 they moved house again, to Bull Row, on Station Road, Millbridge, close to the soap works. The carpet factory, Kate's workplace, could have been Samuel Cooke's at Millbridge, or T.F. Firth's in Heckmondwike.
And thanks to Edith, James Matthews is more than just a name.
Grandad was a teamster and had a pair of lovely horses, Peggy and Polly. He worked for a soap and oil firm, and was out all day taking boxes of soap to places like Hebden Bridge and around thirty miles away. He was out in all weathers, open to the winds and rain, with no cover on his cart, where he sat at the front driving the horses. The chain horse at the front had to be geared up when they approached steep hills to pull the weight. No wonder he only lived to about sixty and died from bronchitis. He was a lovely, Iittle, gentle man. When he got back at night, if it wasn't too late, he would sometimes calI and put me on the horse's back to ride the short distance to the stables. He would then rub down the horses, feed them and then leave them to bed down. This, before going home for his first meal of the day, and it would be late and bedtime for him.
Edgar offers a little more. He remembered John Collier himself, a bachelor, West Riding county councillor, who lived by the mill gate. He also mentions his grandfather's fellow teamers: Harry Lucas, Harry White, who was 'a brawny old man', and George Lister. 'Grandma told us that Lister was a Catholic.' Grandfather, said Edgar, 'often took me with him on his wagon. A day's journey then to Bradford, bringing a load back'. Of lanolin from the worsted factories, presumably. He also saw three teamers taking loads to Bradford with a chain horse.
Past Oakenshaw the chain horse was connected to one of the wagons by putting the chain hooks into iron slots in the wagon shafts for that purpose. The first load was pulled up the hill to Low Moor station, and the chain horse brought back again to help the other two wagons, one after the other.
There is one photograph of James Matthews, among a group of nine men, perhaps workmates. He is the old man on the right, with cap and walking stick. He was 66 when he died in 1913.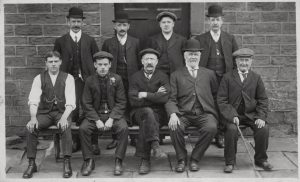 23 August 2016