Though poor, James and Emma Matthews were not at all uncouth. Edith was close to them both and observed them as polite and decent.
ln their early days they had been in service for gentry, and were not rough in any way. Granny was a tall, stately person used to orderly and quiet ways. She was always a good woman and had only one child, my mother. So you can imagine her upset to find my mother with a crowd of children, about ten before she died.
'Tall' was a relative matter in this family.
But 'poor' was inescapable, and so after Kate's marriage the Matthews took lodgers. This was in spite of the Bull Row houses having only one bedroom. Someone must have slept on a put-up bed in the living room. Mr and Mrs White, 'a great friend of the family' lodged there, and so did 'Joe Temp [Temperton?] chauffeur to Dr Halsall, 1913, and later to Mrs Birkby'. These details were noted on photographs of the boarders, collected in an album by a later generation.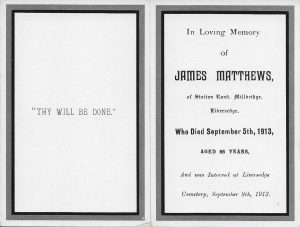 When James Matthews died in 1913, Emma was 62. She was entitled to a widow's pension of five shillings a week, but even with the income from lodgers it could not maintain her in her own house. 'Seeing that the rent was about two and sixpence a week, without the coppers for the gas and nothing at all for food, she had to break up her home and come to live with us', said Edith.
And that was the arrangement for another twenty years. The alternative, the workhouse, was there as a last resort. In fact workhouses were going strong into the 1920s. They lived on further still, beyond the Second World War, in the shape of their old infirmaries converted to unpleasant homes for the aged and infirm. Everywhere had such an institution, most evolving later into district hospitals. Spen Valley's rendering of this model was created at Staincliffe from the 1850s by the Dewsbury Poor Law Union. Emma's family saved her from it, though it must always have been a prospect, a threat on the horizon.
Elderly people famously blessed Lloyd George as if he were a saint from heaven, it was said, for keeping to his vow to 'lift the shadow of the workhouse from the homes of the poor'. Chancellor in Asquith's reforming Liberal government, Lloyd George steered through the Old Age Pensions Act in 1908. He had to fight for it, against opponents in his own party who thought it would encourage the feckless, and mused that it threatened the British Empire itself. This radical and frightening development applied only to the over-70s, two thirds of whom were women. The very poorest of this age group qualified for a pension of between one and five shillings a week.
So Emma's weekly five shillings, her lifeline and salvation from the shame of the workhouse, could not have been a state pension. It must have been out-relief from the Dewsbury Board of Guardians, which was stigma enough. Still, there were pleasures in life, as the indefatigable Edith remembered.
On Thursday afternoon my granny had to fetch her pension. She then always went to see and have tea at Auntie Alice's, which was her weekly treat. Auntie Alice was one of two sisters who emigrated from Suffolk at the same time as granny. But they didn't have much family, so were relatively better off than us. As the weather got darker at night I had to go to fetch granny home, and help her to walk. With my arm tucked into granny's and covered by a big fawn shawl, it was nice and cosy for me, and I enjoyed it.
Rural or urban, domestic service or factory work, Suffolk or Yorkshire, pushed or pulled – was the new life substantially different from the old? Could things have turned out any worse for Emma and the others in Ashfield Magna? Was this reality as much as the émigrés had hoped and imagined?
Although the home circumstances that she left behind were desperate, it appears that Emma Blomfield was the only one of her own family to make the journey to Yorkshire. The others may not have had the opportunity, the wherewithal, to leave. Perhaps some went to London. Emma was one of the numerous children of James Blomfield, an agricultural labourer born in 1796 in Norton, Suffolk. This James was probably already a widower when he married Emma's mother, Eliza Clarke (born 1812, in Elmswell, Suffolk), in Great Ashfield in 1838, for he had a daughter then aged about 12. There was also a younger daughter, probably born to Eliza before they married. If so, she, Sophia, was the first of about eight in this second family. Emma, born in 1851 when the father was in his mid-50s, was the sixth. The Blomfields continued to live at the same address in Elmswell Road, Great Ashfield, for decades, even after the death of James, which occurred around 1861-3.
By the time she was twenty – maybe as soon as she entered her teens – Emma Blomfield had gone into domestic service. In 1871 she was a housemaid, the only servant living in with Eliza Blake, a widow with four children, in Stowmarket, Suffolk. Soon after this, Emma made her decision to move north. It is probable that she never again saw her mother or siblings.
As it had turned out, life for the family members remaining in Ashfield was wretched. The one adult son still at home, John (born 1840), had taken on responsibility for looking after his widowed mother and the younger children. John was an agricultural labourer, sometimes also described as an army reservist. By 1881, all the other able-bodied brothers and sisters had gone, leaving John as head of a sad family group. There was his ageing mother, and an unmarried sister, Eliza, 'imbecile from birth', born c. 1849. She had never been able to work. Making up the household was a niece, Emma E., presumably Eliza's child, who was also noted by the census-taker as 'imbecile'. Perhaps there were many such households in East Anglia, of people quite unable to move, the sorry remnants of long-established families.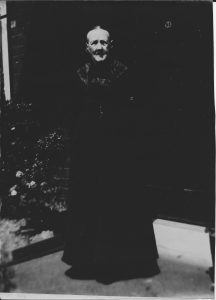 31 August 2016
Emma Matthews in Liversedge, c 1930