Recent presentations:
'The Age of Machinery', Newcomen Society, South Yorkshire branch, 25 February 2019.
'Textile Revolution', YAHS Industrial History Section, 19 January 2019
'Textile Revolution', Victoria and Albert Museum, 4 April 2019
'Making connections: Hallamshire metal trades and early machine-making', British Agricultural History Society conference in memory of David Hey, Sheffield, 23 June 2018.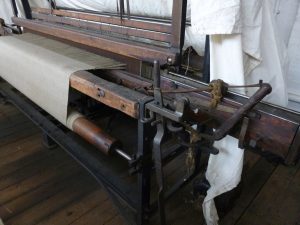 'The birth of Leeds engineering', at YAHS Industrial History day school about Leeds industry, 10 March 2018 at Armley Mills.
And selected highlights from past talks and conferences:
'Education, Science and early mechanical engineers', joint lecture for the North-East Branch, Institute of Physics, and Newcastle Literary and Philosophical Society, 5 December 2016.
'The Context of Textile Revolution: One Year in Leeds', Rethinking Textiles conference, University of Leeds/ Leeds City Museums, April 2016.
'Technologies', Textiles and the Origins of Industrial Revolution: Linking Markets and Technique conference sponsored by Pasold. University of Hertfordshire and Victoria and Albert Museum, 15-16 April 2015.
'After Arkwright: the Business of Building Machinery', Industrial Revolution conference, Cromford, Economic History Society, October 2014.
'Glass-making and the Rise of Industrial Sunderland', National Glass Centre, public lecture, 2014.
'The impact of railways on north-east towns: Darlington and Sunderland in the 19th century', Oxford University Department for Continuing Education, 2013.
Durham County Local History Society annual meeting: 2008 David Reid memorial lecture, April 2008: 'Unpacking a modern landscape: the building of Sunderland'.
Centre for Regional and Local Historical Research seminar, University of Teesside, January 2008: 'A port of last resort: moving coal from County Durham, 1700-1850'.
Locality and Region seminar, Institute of Historical Research, University of London, May 2007: 'Ferry, bridge and harbour: the development of the port of Sunderland from the 17th century'.
Centre for Research into Freemasonry, University of Sheffield, February 2007: 'Freemasons and networking in 18th-c Sunderland'.
Sunderland Antiquarian Society, November 2006, 'Ferry, bridge and port: recent VCH research in Sunderland'.
International Economic History Association conference, Helsinki, August 2006: 'Keeping it in the family: the role of family firms in the industrialising north of England, 1780-1830'.
International Maritime Economic History Association, Kotka, Finland, August 2006: 'Cutting out the Middleman: The Development of the Port of Sunderland, 1715-1850'.
Business History Conference Annual Meeting, Toronto, June 2006: 'Frameworks and freemasons: municipal affairs and business infrastructure in late 18th-century Sunderland'
Pasold conference, University of Nottingham, October 2004: 'Making a virtue of necessity? Business networks in two English textile districts, 1790-1830'.
European Business History Association, Barcelona, September 2004: 'The dynamics of industrialisation: services and manufacturing in the Tees valley, 1818-1870'.
Institution of Electrical Engineers, History of Technology conference, UCL, July 2004: organiser and chair of 150th anniversary Atlantic cable session.