My main publications:
Published February 2018 by the Boydell Press for EHS series People, Markets, Goods:
The Age of Machinery: Engineering the Industrial Revolution, 1770-1850
BOOKS:
Victoria County History of County Durham, V, Sunderland (Boydell and Brewer, 2015)
Sunderland: Building a City  (VCH Studies series: Phillimore, 2010)
Victoria County History of County Durham, IV, Darlington. (Boydell and Brewer, 2005)
The Townscape of Darlington (VCH Studies series: Boydell Press, 2003)
The Cable: Wire to the New World (Tempus Publishing, 2003, 2006; History Press, 2012).
A Victorian Scientist and Engineer: Fleeming Jenkin and the Birth of Electrical Engineering with C.A. Hempstead (Ashgate, 2000)
Gomersal: a Window on the Past with N.A. Cookson (Kirklees Cultural Services, 1992)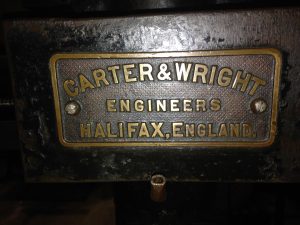 EDITED:
Henry Maudslay and the Pioneers of the Machine Age edited with J. A. Cantrell, (Tempus Publishing, 2003)
Reprint of John Hodgson, Textile Manufacture and Other Industries in Keighley [1879] edited and with a new introduction, with George Ingle (Shaun Tyas Press, 1999)
CHAPTERS AND REFEREED ARTICLES:
'Sunderland Markets and the Myth of the South Shields Donkey', Durham County Local History Soc. Jnl, 81 (2017), 30-38.
'The Yorkshire Archaeological and Historical Society, Past, Present and Future', Local Historian, 46(4) (2016), 327-31.
Entries in the Dictionary of National Biography (2004): Sir Peter Fairbairn; James Kitson; Matthew Murray; Lewis Paul; Richard Roberts; James Walton; and (with D.T. Jenkins) Richard L. Hattersley; (2016): Rowland Burdon; Henry Bolckow; Joshua Wordsworth.
'Menethorpe: Rediscovering a Lost Village', Ryedale Historian, 25 (2011), 22-31.
'The Making of Darlington', in T. Faulkner, H. Berry and J. Gregory (ed.), Northern Landscapes: Representations and Realities of North East England (Boydell and Brewer, 2008).
Entries in P.S.M. Cross-Rudkin and M.M. Chrimes (ed.) Biographical Dictionary of Civil Engineers in Great Britain and Ireland, ii, 1830-90 (2008) on Fleeming Jenkin and John Harris.
'A City in Search of Yarn: the Journal of Edward Taylor of Norwich, 1817', Textile History, 37 (1) (2006), 38-51.
'Quaker Families and Business Networks in 19th-century Darlington', Quaker Studies, 8 (2) (2004), 119-40.
'Quaker Networks and the Industrial Development of Darlington, 1780-1870', in Andrew Popp and J. F. Wilson (ed.), Industrial Clusters and Regional Business Networks in England, 1750-1970 (Ashgate, 2003).
'The Golden Age of Electricity' in I. Inkster et al (ed.), The Golden Age: Essays in British Social and Economic History, 1850-1870 (Ashgate, 2000).
'The Transatlantic Telegraph Cable: Eighth Wonder of the World', History Today, March 2000, 44-51.
'"Ruinous Competition": the French Atlantic Telegraph of 1869', Entreprises et Histoire, 23 (1999), 1-16.
'Engineering influences on Jekyll and Hyde', Notes and Queries, 244, December 1999, 487-91.
'Reconstructing a lost engineer: Fleeming Jenkin and problems of sources', in A. Jarvis and K. Smith (ed.), Perceptions of Great Engineers II (Science Museum, 1998), pp. 25-31. ISBN 0 9063 6794 8.
'The Mechanization of Yorkshire Card-making', Textile History, 29 (1) (1998), 41-61.
'Regarding the artisan: the role of traditional skills in the development of mechanical engineering', in W. J. Ashworth (ed.), Approaches to the History of Engineering (Merseyside Maritime Museum/ Newcomen Society, 1997), pp. 9-17.
 'Building Plans', in Kathryn M. Thompson (ed.), Short Guides to Records (Historical Assoc. 1997). ISBN 085278 406 6.
'Family Firms and Business Networks: Textile Engineering in Yorkshire, 1780-1830', Business History, 39 (1) (1997), 1-20.
'Millwrights, Clockmakers and the Origins of Textile Machine-making in Yorkshire', Textile History, 27 (1) (1996), 43-57.
'Innovation, Diffusion and Mechanical Engineers in Britain, 1780-1850', Economic History Review, XLVII, 4 (1994), 749-53.
'Early Textile Engineers in Leeds, 1780-1850', Pub. Thoresby Soc., 2nd series, IV (1994), 40-61.